Designer Epic 980Q

My favorite Sewing Machine right now! Does most of what the EPIC does, except it is not an embroidery machine. Threads the needle for you!


Jade 35

One of the BEST features of this machine is: Intro Embroidery PC Software included!!!! Adjust, personalize and combine your embroidery designs; create monograms – all on your PC computer. Rotate, mirror, scale and resize any design with the option to ke


Designer EPIC

Instant savings of 30%! Now only $10,499. Saving to "The Cloud" is awesome! No USB stick is needed! My favorite features: Fully Automatic Needle threader & the Bright lights


Designer Diamond Royale

20% FASTER embroidery, exclusive dimensional and applique stitches, and more!


Designer Ruby Royale

FUN FACTS ABOUT the all new DESIGNER RUBY Royale: 1. Reduces your embroidery time by 20% or more making it the perfect time-saver for every embroidery. 2. First in the industry, patent pending Dimen


Designer Topaz 50

Wow! No required USB stick to do embroidery!!! All designs are built in, a color touch screen, design positioning, and combining large designs!!!


Classes
Designer Topaz 25

This machine is 1/2 price in our store!! Limited quantities! All New Entry level Embroidery/Sewing Machine. Very affordable. Very Easy to use.


Sapphire 965Q

CLOSE OUT SPECIAL: $1999 IN STORE ONLY. Did you know that this FANTASTIC machine comes with a FREE Straight Stitch Plate, Sensor foot technology, and Free motion sewing can be done with ANY stitch? It also features SIDE-MOTION sewing.


Sapphire 930

I like this sewing machine so much that it is now in my classroom where I will be teaching 15 kids to sew this school year. If it is easy enough for a 7 year old to use, it is easy enough for anyone.


Opal 690Q

How would you like an affordable machine that has a BOBBIN THREAD SENSOR? No need to check bobbin thread when sewing. Stops sewing and alerts you when the bobbin thread is about to run out.


Opal 670

Reg price $1299--on sale now for $999!


Opal 650

This sewing machine is a great 2nd machine. All of the extra feet you purchased for your Husqvarna Viking embroidery machine can be used on this machine too. You can be sewing while your embroidery machine is running.


Emerald 118

Fabulous Machine for $399!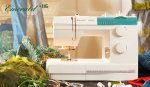 Emerald 116

Great value for under $300. Great Husqvarna Viking quality for a basic machine


HClass 100Q

This is one fabulous sewing machine! ONE FOR THE ROAD