Fil-Tech Bobbins

Pre-wound bobbins come in tan,gray,black, & white. These are great for embroidery projects!! They come in a handy tube and are ready when you are.


Fil-Tech Class 15 bobbins

Need lots of black, white, gray, or tan bobbins that you can just put in your sewing/embroidery machine when you run out? These bobbins are for you!!Order one tube in every color.


Husqvarna Viking Green Bobbins

We now have the New Green Bobbins with a hole to make bobbin winding even easier!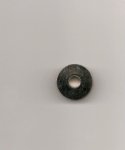 HV Mega Quilter bobbin

We carry lots of bobbins for the Husqvarna Viking Mega Quilter. You can never have enough filled bobbins while you are machine quilting.


Singer 221 Featherweight Bobbins

We carry the hard-to-find bobbins at the best prices. A good quilter knows the value of new bobbins, it will keep the machine stitching at it's very best. Pack of 5


Singer CE Model Embroidery/Sewing Machines

These bobbins are made just for the Singer CE model sewing/embroidery machines. You will get much better looking embroidery if you have the proper bobbin for your machine.


Singer Centaur Bobbins

These Singer bobbins have a metal tip in the middle of them. They are used on the models 6235, 6267, & 6268.


Singer Futura Athena 2000 series

These bobbins are used on the models on the "older" style Singer Futura and Athena 2000 series machines. If you haven't bought any for a while, check the ones you have as they could be rough or chipped.


Singer Surefit Bobbins

The Singer bobbin for the Inspira series, 4205, 4206, 4210, or 4212. This is the bobbin that can't be put into the machine wrong. This bobbin is only used in this series of machine. Get plenty while you are ordering!!!!


Singer Wind in Place XL-5000 & XL-6000

These bobbins are for the never ending bobbin feature on the Singer Quantum XL-5000 & XL-6000.