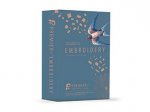 Premier + Embroidery

All the fundamental tools to create your own customized embroideries. Change colors, resize and rotate, repeat designs, add lettering and embellish with motifs or frames. (2 modules)


Premier + Embroidery Extra

Create designs, Photo Stitch and quilt blocks automatically for your personalized project. Let your creativity soar as you audition designs with decorations, appliques, and backgrounds.


Premier + Ultra Software

The ultimate embroidery software system contains a huge variety of embroidery tools, wizards, fonts and designs, including exclusive modules and bonus designs. (11 modules)


TruEmbroidery3 Elite for Mac

A complete software system designed specifically for Mac® computers, TruEmbroidery™ Software offers everything you need to bring embroidery to life.